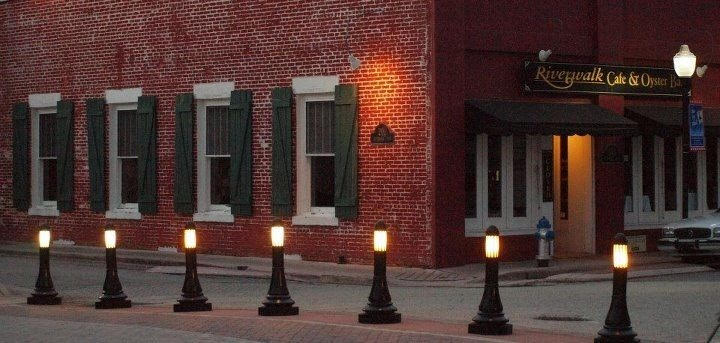 About Riverwalk Cafe and Oyster Bar
Riverwalk Cafe and Oyster Bar is located in one of Stuart's most historic downtown buildings and is positively quaint. Riverwalk Cafe features over 120 selections of quality wine and over 50 available by the glass, the freshest seafood, USDA Prime Center Cut Steak and our fresh oyster raw bar.
You will get greeted by friendly and knowledgeable staff along with a tantalizing menu.
Riverwalk Cafe and Oyster Bar is a treat and should be on your list for lunch or dinner.
Article in Stuart Magazine
Checkout, Chef/Owner Steven Feder, in the Stuart Magazine February Issue "Meet 8 Local Rising Chefs Cooking Up A Storm On The Treasure Coast"!
Read Article
Check us out on CBS12's Food Trippin'
THE EXPERIENCE
We would like to take this opportunity to welcome you at our Restaurant. We are offering a warm, friendly atmosphere to share a meal with family and friends at any time of the day or evening. Since 2002 we have been here taking care of our customers and serving up exquisite oysters, the freshest seafood and USDA Prime Center Cut Steak. Chef/ Owner, Steve Feder, has a passion for food that you can taste in every bite. As an addition to our excellent menu, we have over 120 selections of quality wine. In our racks you will find a vast selection of different wines from the four corners of the globe. Our friendly staff will help you to find that ideal bottle. Let us awaken your appetite! We hope you enjoy your evening with us.
Riverwalk Reviews
By far... one on my favorites!  Food excellent, service is superb!
Great Food, Great Service! I often get salads for lunch from here... and do date night dinners out with my husband at Riverwalk. We have had almost everything on the menu,-- never had a bad meal yet. Friendly staff do excellent with wine pairings recommendations . Overall a wonderful intimate dinning experience in a cosy environment with excellent food. -- Be sure to call and make reservation, they fill up quick.
Fantastic food and service. Fun atmosphere.
Very little restaurant with calm atmosphere. Personalized service from the staff and simply amazing food. Make sure to reserve a table. This place is usually booked and not without reason.
Oyster stew, best I have ever had consistently... Richard Hersee, Jensen Beach
our menus
"We have complimented the Ahi Nacho's in the past, a signature appetizer to The Riverwalk Café, and testament to Steve's passion for creation." - MICHAEL LANDRY, Spotlight
There are no upcoming events at this time.
Who needs a trip to the keys??? Come and bid on this awesome lil getaway! Tomorow is the big day. Come and and be apart of this great cause. Lots of food and fun😃
Thank you Kelly Flinn for donating your wonderful products. Time is running out! Hurry up and get your tickets for The big dog ranch fundraiser!! This is one of the many awesome prizes you can win! Call 7722211511 for tickets!
Make your plans now for Wednesday evening. Wednesday evening at Riverwalk Café & Oyster Bar, help save the dogs! Delicious appetizers, drinks, silent auction and raffles. Plus you get to meet the dogs!